Top 5 Hawaii Surf Camps: Unleash Your Inner Surfer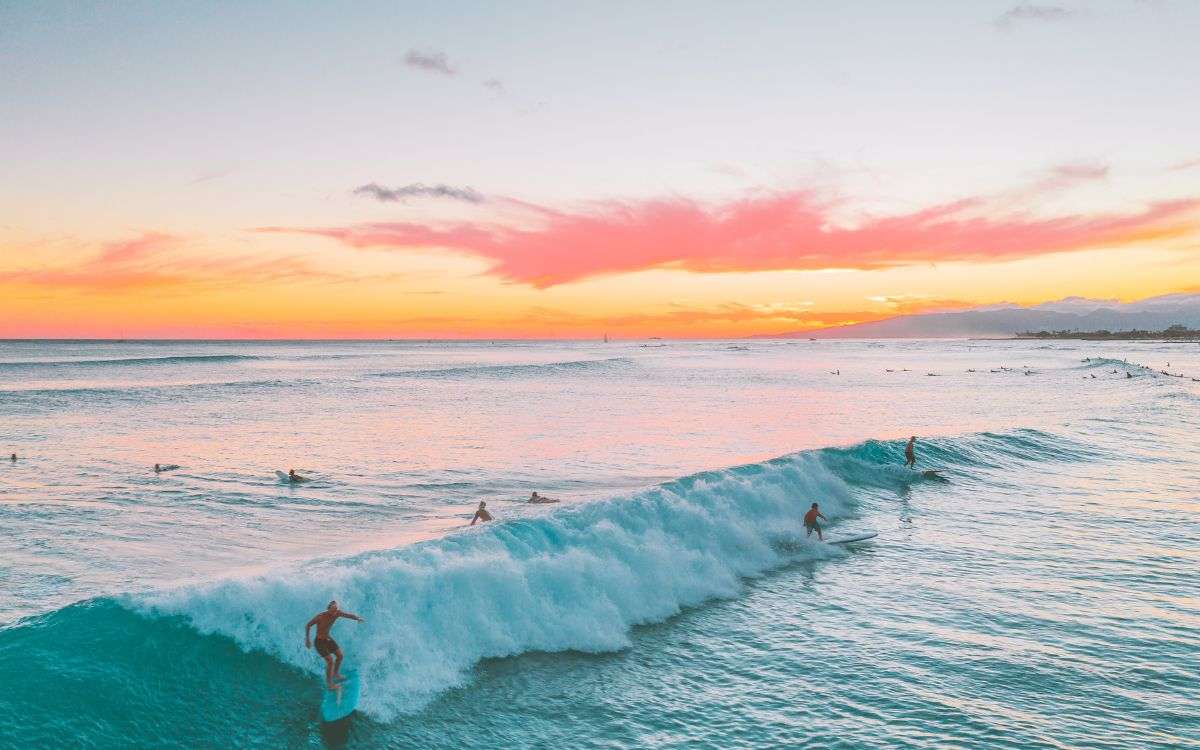 What Are the Top Hawaii Surf Camps?
The best Hawaii surf camps are Pata Sudaka Surf Camp, Go Nuts Hawaii, Haleiwa Surf and Yoga Retreat, Maui Surf, and Soul, and Maui Surfer Girls.
When looking for one of the best surf camps in Hawaii, it's important to keep some things in mind. In this article, we'll review each surf camp to see which is best for you.
Have you ever felt the irresistible call of the ocean, dreaming of riding its majestic waves?
We know that feeling all too well. As passionate surfers and seasoned travelers, we've dipped our toes in many waters, but there's something about Hawaii – the birthplace of surfing – that continually draws us back.
This article will guide you to discover the top Hawaii surf camps where you can fulfill your dream, conquer those waves, and unleash your inner surfer.
Ready to catch a wave? Hang ten with us!
Affiliate Disclaimer: This post may contain affiliate links, meaning I may earn a small commission if you use the provided link.
Information Disclaimer: This website gives general info and isn't legal or official advice. It helps travelers with tips but can't replace personal abilities, fitness, experience, or local knowledge, which you are fully liable for. All activities have risks; assess current conditions and follow local laws and signage.
Key Takeaways
Hawaii is the birthplace of modern surfing and offers some of the most impressive surf spots in the world, making it an unparalleled destination for anyone looking to ride the waves.
Top Hawaii surf camps like Go Nuts Hawaii, Haleiwa Surf and Yoga Retreat, Pata Sudaka Surf Camp, and Maui Surf and Soul, and Maui Surfer Girls offer personalized surf lessons, yoga classes, holistic adventures, and stunning ocean views for a truly immersive experience.
Attending a surf camp in Hawaii provides benefits such as learning from expert instructors, access to top-notch equipment, and exploring world-class waves with insider knowledge. You'll also be immersing yourself in surf culture, enhancing your fitness level through surfing workouts, enjoying holistic adventure activities like yoga and hiking, and creating lifelong memories.
Why Choose a Surf Camp in Hawaii?
Stepping onto the shores of Hawaii, you can almost feel the surf culture pulsing in the air. Surfing is ingrained deep into the Hawaiian lifestyle and heritage, making it an unparalleled destination for anyone looking to ride the waves.
Choosing a Hawaii surf camp means immersing yourself in that culture while having access to some of the most impressive surf spots in the world.
Hawaii's diverse coastline caters to all surfing skill levels—whether you're a beginner or a pro seeking thrilling challenges.
And there's no denying that there's something magical about learning how to carve through the Pacific Ocean swells on iconic beaches like North and South Shore Oahu.
At top surf camps such as Go Nuts Hawaii or Pata Sudaka Surf Camp, not only do these camps offer daily surfing lessons tailored to your needs but also holistic adventures—from yoga classes fostering inner peace, hiking for nature immersion to wholesome meals providing nourishment—all set against awe-inspiring ocean views.
For couples looking for a unique romantic escape with adventure and relaxation combined, Maui Surf and Soul checks those boxes with their heart-opening cacao ceremonies and tantric coaching amidst perfect waves.
So why choose a surf camp in Hawaii?
It promises more than just great surfing; it offers unforgettable experiences bound by friendly locals' warm aloha spirit, and stunning natural beauty offering lifelong memories!
Hit 'Play' to get in the mood, as you scroll through the article.
Top 5 Surf Camps in Hawaii
Here are the top 5 surf camps in Hawaii that will help you unleash your inner surfer:
1. Pata Sudaka Surf Camp: Another great option on Oahu's North Shore, Pata Sudaka Surf Camp offers couples tantric coaching and personalized attention from instructors. They also provide cruiser bikes for exploring the beautiful surroundings.
2. Go Nuts Hawaii: Located on Oahu's North Shore, It offers surfing lessons, surf equipment hire, and a range of activities, including yoga classes, hiking, and glamping at its campsite.
3. Haleiwa Surf and Yoga Retreat: This surf camp provides a unique experience with private cottages offering ocean views. They also offer sound healing sessions and heart-opening cacao ceremonies for a holistic adventure.
4. Maui Surf and Soul: Maui Surf and Soul is the perfect choice if you're looking for a luxurious resort atmosphere combined with exceptional surf instruction. With stunning views and an emphasis on adventure and relaxation, this.
5. Maui Surfer Girls: Unleash your inner surfer with Maui Surfer Girls: expert instruction, options for bringing your own board or using one of theirs, complimentary airport transfers, dedicated camp nurse (teen camp), dietary accommodations, oceanfront facility at Camp Olowalu, flexible refund policy, camera documentation, and easy travel arrangements.
Not sure if a Hawaii surf camp is right for you? Check out these highly-rated companies for surf lessons:
1. Pata Sudaka Surf Camp
Pata Sudaka Surf Camp is a top surf camp on the stunning North Shore of Oahu, an absolute paradise for surfers.
With a 1-week surf camp experience, Pata Sudaka offers everything you need for an unforgettable time in the water.
We had the team at Pata Sudaka on our podcast. Check out more of their story here.
They provide daily surf lessons, ensuring that beginners and experienced riders alike can confidently catch those perfect waves.
But it's not just about surfing here – they also offer yoga classes to help you find balance and strength and guided hikes to explore the beautiful surroundings.
And when it comes to accommodations, get ready for an incredible glamping experience that combines luxury and nature perfectly.
Don't miss this opportunity to unleash your inner surfer at Pata Sudaka Surf Camp!
2. Go Nuts Hawaii
Whether you're a beginner keen to catch your first wave, or a seasoned surfer looking to conquer the famous North Shore surf breaks, Go Nuts Hawaii is the perfect starting point.
Nestled on Oahu's iconic North Shore, this top-rated surf camp blends adrenaline-packed surfing lessons with Hawaiian holiday relaxation—all under the guidance of CPR and lifeguard-certified instructors.
Over a one-week stay at Go Nuts Hawaii, you'll plunge into daily surf sessions that offer personalized instruction, ensuring you stand up and ride waves successfully.
Between exhilarating water-based adventures and mingling with friendly locals who live and breathe surf culture, you can bask in stunning ocean views from beachfront eateries offering healthy meals.
Surf gear is provided for your convenience as part of their package deals, including airport transfers for hassle-free travel plans.
Improve your skills by day and kick back by night in charming accommodations bathed in tropical accents. It's not just about catching waves but creating lifelong memories too.
3. Haleiwa Surf and Yoga Retreat
Immerse yourselves in the lush tropical atmosphere of Haleiwa Surf and Yoga Retreat, one of Hawaii's top surf camps.
Strategically located on the North Shore of Oahu, this retreat offers a unique blend of surfing lessons and yoga classes that cater to all levels – from beginners eager to ride their first wave to experienced surfers craving the thrill of Oahu's perfect waves.
Staying at this traditional Hawaiian house means you're just steps away from world-class surf spots and stunning ocean views.
This 5-day holistic adventure includes board and wetsuit, so no need to lug around your own gear! Plus, daily surf and yoga sessions are designed for every skill level.
Be part of an authentic surfer community where friendly locals share insider tips about undiscovered local breaks while nutritious vegetarian meals fuel you up for each exciting day at sea.
The Haleiwa Surf and Yoga Retreat isn't just a camp – it's your gateway towards unlocking your inner surfer, seizing lifelong memories under Hawaii's radiant sunsets, all while finding inner peace amidst its tranquil surroundings.
4. Maui Surf and Soul
Maui Surf and Soul offers the ultimate surf and yoga experience for couples visiting Hawaii. Their 7-day program is designed to help you unleash your inner surfer while also finding inner peace through yoga and meditation.
Each day, you'll receive expert surf lessons from their experienced instructors, allowing you to catch those perfect waves in no time.
When you're not out on the water, join in on for beachside yoga and meditation sessions that will leave you feeling refreshed and rejuvenated.
And after a day of surfing and exploring the island, retreat to your private cottage for some relaxation.
5. Maui Surfer Girls
Join Maui Surfer Girls for an unforgettable surf camp experience on the beautiful island of Maui.
Whether you're a beginner or have some surfing experience, they have tailored programs to suit your needs. Their expert instructors will guide you through the fundamentals or help you improve your skills in intermediate-advanced surf groups.
Feel free to bring your surfboard or choose from their selection of high-quality boards.
The oceanfront facility at Camp Olowalu offers breathtaking views and a perfect setting for your surf adventure.
Their complimentary airport transfer from Kahului (OGG) airport makes travel arrangements easy. For teen campers, they ensure a smooth process for unaccompanied minors with our camp representative waiting at the gate.
Safety is a priority at Maui Surfer Girls. They have a camp nurse and staff members available for their teen camp who can tend to basic first aid needs at the women's camp.
Let them know about any dietary needs or allergies, and their camp cooks will happily accommodate you.
Benefits of Attending a Surf Camp in Hawaii
Here are some of the benefits you can expect from attending a surf camp:
– Learn from Expert Instructors: Surf camps in Hawaii offer lessons taught by experienced and skilled instructors who know these waves like the back of their hand.
They will guide you through proper techniques, safety protocols, and give you personalized feedback to help you progress quickly.
-Access to Top-notch Equipment: No need to worry about traveling with your gear. Most surf camps provide all the necessary equipment, including surfboards, wetsuits, and leashes. You'll have everything you need to make the most out of your sessions.
-Explore World-class Waves: Hawaii is renowned for its incredible surfing spots. By attending a surf camp, you gain insider knowledge about these locations and get the opportunity to ride perfect waves while enjoying stunning island views.
-Immerse Yourself in Surf Culture: Surfers are a unique community with their own language, traditions, and deep respect for nature.
At a surf camp in Hawaii, you'll be surrounded by like-minded individuals who share your passion for riding waves. It's an excellent chance to make new friends worldwide and connect with people who truly understand your love for surfing.
-Enhance Your Fitness Level: Surfing is exhilarating and a fantastic workout that engages multiple muscle groups in your body.
Attending a surf camp means spending hours in the water catching waves – this will improve your cardiovascular endurance, core strength, balance, and overall fitness level.
-Enjoy Holistic Adventure: Many surf camps in Hawaii combine other activities like yoga, hiking, and even sound healing sessions to create a well-rounded experience.
These additional activities complement your surfing practice by enhancing flexibility, mindfulness, and inner peace. It's an opportunity to relax, rejuvenate, and balance body and mind.
Tips for Choosing the Right Surf Camp
Now that you're eager to unleash your inner surfer at a Hawaii surf camp, choosing the right one is important for an unforgettable experience.
Here are some tips to help you make the best decision:
-Consider Your Skill Level: Whether you're a beginner or an advanced surfer, make sure the surf camp offers lessons and instruction suitable for your level. Look for camps that cater specifically to your level.
-Location, Location, Location: Each Hawaiian island offers unique surfing conditions and spots. Research the camp's location and find out if it aligns with your preferences.
For example, if you're seeking big waves (experience needed) and a vibrant surf scene, go for camps on Oahu's North Shore. If you prefer a more relaxed vibe or want to explore other outdoor activities along with surfing, consider camps on Maui or Kauai.
-Read Reviews: Check online reviews and testimonials from past participants of the surf camps you're interested in. This will give you insights into their quality of instruction, facilities, accommodations, and overall experience.
-Facilities and Amenities: Look into what the camp provides besides surfing lessons. Some camps offer additional amenities like yoga classes, hiking excursions, glamping accommodations, sound healing sessions, or couples coaching sessions – choose your interests.
-Budget Considerations: Surf camps vary in pricing depending on their location, duration of stay, accommodation type, and included services.
Decide how much you will spend on your surf camp experience and look for options within your budget range.
Learn more about the surf culture on the north shore of Oahu by learning the story of the Sunrise Shack!
FAQs
1. Can tourists surf in Hawaii?
Yes, tourists can surf in Hawaii! A long time ago, only the Hawaiian kings and queens were allowed to surf, kind of like a special game just for them. But now, anyone can have fun surfing! If you really like surfing, you might want to visit the South Shore on the island of Oahu, or maybe even Maui. They're both really cool places to surf!
2. Which Hawaii Island is best for beginner surfing?
Some awesome places for beginners to learn surfing are Canoes in Oahu, Kihei Cove in Maui, Kahalu'u on the Big Island, and Kalapaki on Kauai. But don't worry, whichever island you choose to visit, you'll find some easy and fun spots where you can surf for the first time.
3. What is a surf camp?
Surf Camps are for people who want to get better at surfing by practicing on different kinds of waves over many sessions. They're also perfect for anyone who's never surfed before but wants to learn and get good really quickly.
4. When should a beginner surf in Hawaii?
May to October, which is summer, it's the best time for beginners to try surfing in Hawaii. The winter waves in Hawaii can be really big and scary. There are different kinds of waves here for everyone, no matter how good you are at surfing. Most waves crash over a reef, but don't worry, there are also really nice beaches in Hawaii that are perfect for beginner surfers.
5. How do you prepare for a surf camp?
Before you go to surf camp, it might be a good idea to exercise upper and lower body at the gym. Getting up on the board and paddling are two really important things you'll learn in your first surf lesson. These both use a lot of your upper body, like your arms, back, chest, and shoulders. Just remember, don't push yourself too hard and make sure to stretch a lot too!
6. What services does a surf school offer?
A surf school offers services such as surf lessons, surf rentals, private surf coaching, and guided surf trips to the best surf spots.
7. Which is the best surf spot in Waikiki?
Waikiki is known for its gentle rolling waves, making it a perfect spot for beginners to learn to surf.
8. Can I learn to surf even if I have no prior surf experience?
Absolutely! Surf schools cater to all levels, including complete beginners with no prior surf experience.
9. Are surf lessons included in the rates at surf camps?
Yes, surf lessons are typically included in the rates at surf camps.
10. What is included in a 7-day surf and yoga retreat?
A 7-day surf and yoga retreat usually includes daily surf lessons, yoga classes, accommodation, meals, and other amenities such as surf shacks and hot tubs.
11. Can surf camps help improve my surfing?
Yes, surf camps have experienced surf instructors who can provide guidance and coaching to help you improve your surfing skills.
12. Where is Haleiwa Surf and Yoga located?
Haleiwa Surf and Yoga is located just 5 minutes away from Haleiwa, on the beautiful North Shore of Oahu.
13. What is the best time to surf in Hawaii?
The winter months in Hawaii, from November to February, are known for big waves and are popular among experienced surfers.
14. Can I participate in surfing competitions during a surf camp?
Some surf camps offer the opportunity to participate in surfing competitions, providing an action-packed surf experience.
Where to find cheap parking in Waikiki Beach, Honolulu. Find cheap parking, hotel parking fees, and a parking map for a stress-free Waikiki adventure!
Explore travel to Maui post-disaster with expert Mindy Poder. Dive into responsible tourism tips!
Planning a Hawaiian vacation? Find out if Hawaii in November is a great time to visit. Discover the best time for your trip to the Aloha State!