Top 15 Best Things to Do in Hilo, Hawaii for an Unforgettable Vacation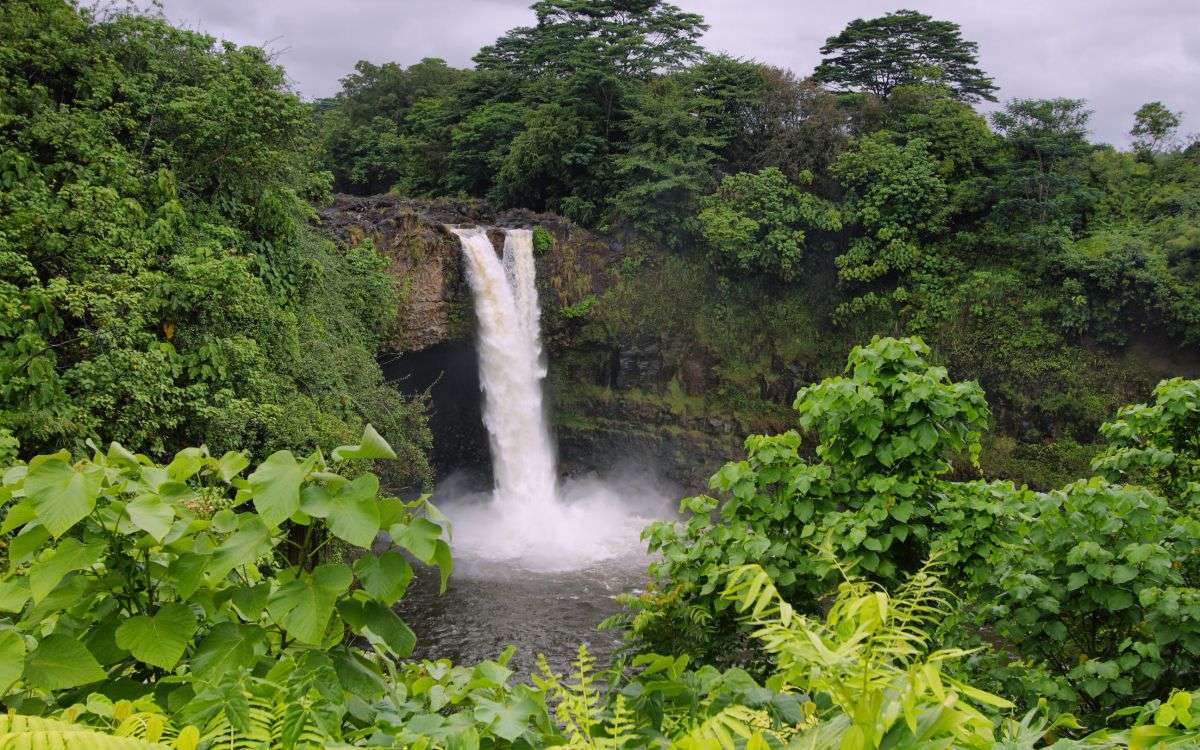 What Are the Top Best Things to Do in Hilo?
Some of the best things to do in Hilo are visiting Hawaii Volcanoes National Park, snorkeling at Richardson Ocean Park, taking a coffee farm tour, going to the Lyman Museum and Mission House, and taking a drive on Hamakua Coast.
The quaint town of Hilo on the Big Island of Hawaii is one of my favorites. With its unique blend of breathtaking landscapes, rich culture, and exciting attractions, this charming seaside town has something for everyone.
This post may contain affiliate links, meaning that I may earn a commission if you use a link provided.
This post gives general info and isn't legal or authoritative advice. It helps travelers with tips but can't replace personal abilities, fitness, experience, or local knowledge. Marine activities have risks; assess conditions and follow local laws.
Key Takeaways
Hilo, located on the east side of the island of Hawaii, has a rich history and offers a blend of breathtaking landscapes, culture, and attractions.
The top 15 best things to do in Hilo include exploring Hawaii Volcanoes National Park for its active volcanoes, taking a helicopter tour to see stunning views of waterfalls and tropical rainforests, and snorkeling at Richardson Ocean Park.
Other top things to see in Hilo include visiting Mauna Kea Observatory for stargazing and sunsets/sunrises and experiencing the annual Merrie Monarch Festival in April, which showcases traditional Hawaiian hula performances.
Looking for things to do in Hilo, Hawaii?
Don't miss the stunning Rainbow Falls and the lush Wailuku River State Park. Explore the beautiful Liliuokalani Gardens, visit the informative Imiloa Astronomy Center, or take a dip in the thermal ponds at Ahalanui Park.
Be sure to check out the scenic Akaka Falls State Park for breathtaking waterfalls too!
Overview of the Town of Hilo
Hilo was originally a small fishing village before becoming a major hub for trade and commerce in the 19th century.
History of Hilo
Nestled on the east coast of the Big Island, Hilo is a charming town with a rich history deeply connected to its volcanic landscape. Founded by Polynesians who first arrived in Hawaii around 1100 AD, Hilo became an essential trading hub for sandalwood and later sugar plantations during the 19th century.
Walking through downtown Hilo you discover a delightful blend of old and new – historic buildings from plantation-era Hawaii now house quaint boutiques, art galleries, and vibrant farmers' markets where you can find fresh local produce alongside incredible poke bowls.
The once thriving sugar industry has been replaced with diverse places such as museums and venues showcasing traditional Hawaiian culture. With stunning views of Hilo Bay, unique cultural experiences, and a laid-back atmosphere, this town is truly one of a kind.
Average Temperature in Hilo
Visiting Hilo is a great choice for people looking to experience the beauty of Hawaii. To help you prepare for your trip, here's a table of average temperatures by month in Hilo, so you know what to expect during your visit.
| Month | Average Temperature (°F) |
| --- | --- |
| January | 64-78 |
| February | 65-78 |
| March | 66-78 |
| April | 67-79 |
| May | 68-80 |
| June | 69-81 |
| July | 70-82 |
| August | 70-83 |
| September | 70-83 |
| October | 69-82 |
| November | 68-80 |
| December | 65-78 |
As you can see, temperatures in Hilo are generally pleasant throughout the year. Keep in mind that Hilo has more rainfall than Kona on the west side of the Big Island, so it's a good idea to pack a rain jacket, too. With this information, you can better plan your vacation and enjoy the best of what Hilo has to offer.
Average Rainfall in Hilo
In Hilo, you'll find that the weather trend tends to be quite rainy. It is one of the wettest spots in the Hawaiian islands. To give you an idea of what to expect, I've compiled the average monthly rainfall in Hilo in the table below.
| Month | Average Rainfall (inches) |
| --- | --- |
| January | 10.9 |
| February | 10.1 |
| March | 14.7 |
| April | 13.6 |
| May | 9.2 |
| June | 8.2 |
| July | 11.5 |
| August | 10.8 |
| September | 10.8 |
| October | 10.8 |
| November | 16.2 |
| December | 11.4 |
Source: http://climate.geography.hawaii.edu/ Giambelluca, T.W., X. Shuai, M.L. Barnes, R.J. Alliss, R.J. Longman, T. Miura, Q. Chen, A.G. Frazier, R.G. Mudd, L. Cuo, and A.D. Businger. 2014. Evapotranspiration of Hawai'i. Final report submitted to the U.S. Army Corps of Engineers—Honolulu District, and the Commission on Water Resource Management, State of Hawai'i.
While Hilo is known for its high rainfall, it's important to note that Kailua-Kona, on the other side of the island, averages only 18 inches of rain per year.
So if you're planning a visit to Hawaii Island, make sure to bring a raincoat when exploring Hilo attractions!
Visiting Hilo, Hawaii, a small town nestled on the eastern coast of the Big Island, offers a myriad of activities and attractions for travelers seeking a taste of the island's natural beauty.
With tropical rainforests, stunning waterfalls, and black sand beaches, visitors often find themselves in awe of the picturesque landscapes.
Exploring the lush Wailuku River State Park, admiring the majestic Akaka Falls, and taking a dip in the warm waters of Richardson Beach Park are just a few options of what to do in Hilo, Hawaii.
Top 15 Best Things to Do in Hilo, Hawaii
There are many things to do in Hilo. You can experience the thrill of exploring active volcanoes at Hawaii Volcanoes National Park, take a helicopter tour to appreciate the breathtaking views of Hilo and its surroundings or relax in the crystal clear waters while snorkeling at Richardson Ocean Park.
1. Hawaii Volcanoes National Park
One of the top 15 best things to do around Hilo is to visit Hawaii Volcanoes National Park. The park is home to Kilauea Crater, Thurston Lava Tube, and Kilauea Iki Crater, which can be explored through hiking trails or helicopter tours.
Depending on current conditions, you may have the chance to view actual eruptions. While there, you can learn about the Big Island's volcanic history at this popular spot. Mauna Loa—the island's most active volcano—has also significantly shaped Hilo's past and present.
2. Helicopter Tour of the Island
When visiting, taking a helicopter tour of the Big Island on the Hilo side of the island is a must-do activity. It's an unforgettable experience that allows you to see Hawaii's beauty from a different perspective.
From above, you can take in stunning views of waterfalls, rainforests, and volcanoes like Kilauea at Hawaii Volcanoes National Park. One recommended option is the Lava & Rainforest Adventure helicopter tour that takes visitors on a ride over lava fields and through lush rainforests showcasing what Kilauea has left behind.
3. Snorkeling at Richardson Ocean Park
Richardson Ocean Park is a must-visit spot near Hilo, Hawaii, especially for snorkeling enthusiasts. Here, you'll typically find activities such as snorkeling, swimming, diving, surfing, fishing, and picnicking being the most popular among visitors.
One of the most popular activities at Richardson Ocean Park is snorkeling as it's an excellent opportunity to explore the vibrant underwater world around this area.
The black sand turtle nesting beach is another major attraction visitors should not miss out on. Snorkelers have reported spotting sea turtles swimming along with them while exploring the beautiful coral reef and rock formations found just a few meters away from shore. As true when exploring any of the islands in Hawaii it's important to review the Pono Pledge.
4. Hilo Coffee Mill
If you're a coffee lover, then taking a tour at Hilo Coffee Mill is an experience you cannot miss.
Renowned globally, the Big Island of Hawaii boasts coffee of unparalleled richness, rivaling that of famous coffee regions. Nestled on 24 scenic acres in Mountain View is the Hilo Coffee Mill, established in February 2001, with the goal of aiding local coffee farmers in producing, processing, and marketing their valuable crops.
This tour takes you through Hilo's lush and scenic landscapes, where farms produce some of the world's best coffee.
5. Mauna Kea Observatory
The Mauna Kea Observatory is a must-visit attraction near Hilo, Hawaii. At 13,800 feet above sea level, this is the highest peak of any Hawaiian island. Mauna Kea offers breathtaking views of the surrounding area that are not found anywhere else.
You can explore Mauna Kea through a tour or on your own and enjoy free stargazing while taking in stunning sunsets and sunrises.
6. Merrie Monarch Festival
One of the most exciting events in Hilo is the annual Merrie Monarch Festival held in April. This week-long cultural celebration honors King David Kalakaua with traditional Hawaiian hula performances, music competitions, and craft fairs.
During the festival's parade route, spectators can see beautifully decorated floats celebrating Hawaii's history and culture. The event also offers an opportunity to purchase merchandise such as t-shirts or other souvenirs that commemorate the festivities.
If you're lucky enough to be visiting during the festival, it's definitely one of the best things to do in Hilo.
7. Lyman Museum and Mission House
One of the must-visit attractions around Hilo is the Lyman Museum and Mission House. The museum boasts a rich collection of artifacts and items, including early missionary families' belongings.
Through engaging displays, it provides visitors with an interactive exhibit on various topics related to Hawaii's culture and history.
Visiting the Lyman Museum is unavoidable in downtown Hilo as it stands out among other tourist destinations. Its location makes it easily accessible to exploring nearby attractions.
8. Coconut Island
Coconut Island, also known as Mokuola, is located in the heart of Hilo Bay near Queen Liliuokalani Gardens. The island offers a serene retreat for visitors who want to enjoy the beautiful beaches and palm trees typical of Hawaii.
Its calm waters make it perfect for swimming, especially if you're staying near the Hilo pier.
9. Scenic Drive on Hamakua Coast
When visiting the Hilo area, exploring the Hamakua Coast by car is an absolute must. This 40-mile scenic drive offers breathtaking views of waterfalls like Akaka Falls State Park and botanical gardens such as Hawaii Tropical Botanical Garden.
One of the highlights of this coastal road trip is Pepe'ekeo Scenic Drive. Along the Hamakua Coast you'll find lush tropical rainforests with stunning ocean views.
The drive is one of the best things to do in Hilo, which can be done as part of a larger Big Island Circle Tour and Volcano excursion or as a day trip. It provides a unique and unforgettable way to experience natural beauty spots in Hilo while being able to stop and take photos at various points along the journey.
10. Pana'ewa Rainforest Zoo
One of the top 15 best things to do in Hilo is visiting the Pana'ewa Rainforest Zoo. This Hilo zoo is home to a wide variety of animals and serves as a botanical garden with over 100 species of palms, bamboo, and orchids on display.
Admission is free to the zoo. It is a popular attraction for families with children who will enjoy seeing exotic animals like tigers, monkeys, and reptiles up close.
11. Rainbow Falls Hike
Located inside the Wailuku River State Park, this beautiful waterfall cascades 80 ft over a lava cave that's believed to be home to an ancient Hawaiian goddess named Hina.
Here, you can enjoy scenic views and bask in the beauty of its rainbow formation, seen on sunny mornings. Plus, this hike provides an easy trek for people of all ages, with opportunities to spot other waterfalls.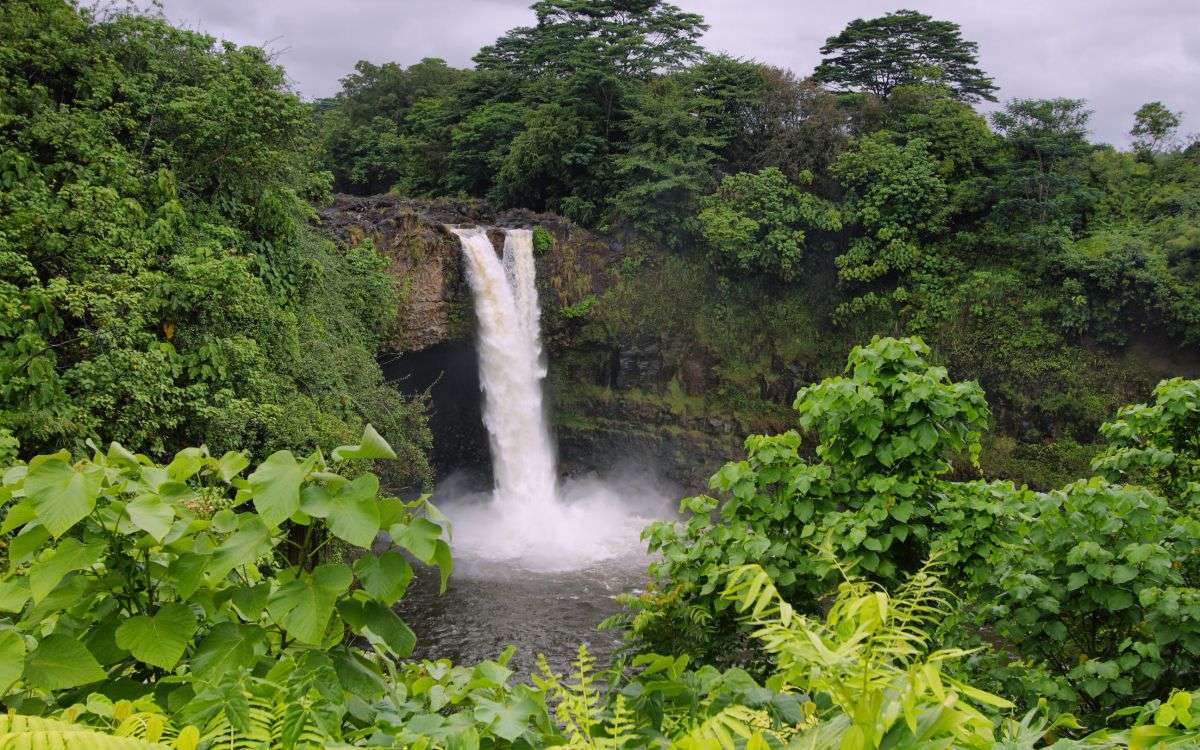 12. 'Imiloa Astronomy Center
The 'Imiloa Astronomy Center is one of the best things to do in Hilo for anyone interested in Hawaiian culture and the stars. Located on the University of Hawaii Hilo campus, the center offers an immersive experience that blends ancient traditions with modern astronomy.
The exhibits explores the origins of Hawaiian people, their voyages to reach the islands, and their connection to celestial navigation. Planetarium shows and interactive displays help to learn about constellations, planets, black holes, and other fascinating astronomical phenomena.
13. Wailuku River State Park
One of the top spots to visit in Hilo, for an unforgettable vacation is Wailuku River State Park. As mentioned above, the park boasts the stunning 80-foot tall Rainbow Falls with multi-hued mist effects, making it a popular tourist attraction that shouldn't be missed.
If you're looking for more adventure and natural beauty, Pe'epe'e Falls is also located within the state park and can be explored on foot. During your visit to Wailuku River State Park, take time to soak in the scenic views and marvel at nature's wonders.
14. Pacific Tsunami Museum
The Pacific Tsunami Museum is a must-visit. Located in the heart of downtown Hilo, this museum provides an insightful and informative look into the devastating impact of past tsunami events in the Pacific.
Established in 1993, the museum aims to promote education and awareness to save lives during potential future tsunami events.
Visitors can explore exhibits showcasing first-hand accounts from survivors, artifacts from previous tsunamis, and educational displays on how to prepare for these natural disasters.
The museum's goal is to honor those who lost their lives during past tsunamis and to provide visitors with knowledge on how to stay safe during these catastrophic events.
15. Liliuokalani Gardens
Ah, Liliuokalani Gardens – one of my favorite places to visit in Hilo! This stunning Japanese-style garden is located along Banyan Drive in historic downtown Hilo and is a must-visit for anyone traveling to the area.
The largest authentic Edo-style ornamental garden outside of Japan, Liliuokalani Gardens offers gorgeous views of Hilo Bay and is home to arching bridges over fishponds, rock gardens, pagodas, and Japanese stone lanterns.
It's more of a preserve than a traditional botanical garden, making it an incredibly unique attraction that cannot be missed.
Tips for Planning Your Hilo Visit
Consider visiting Hilo during the dry season, typically from May to September, and book accommodations in advance, as options can be limited.
Best Time to Visit Hilo
When planning for the best things to do in Hilo, it's also important to consider the best time to visit. The best time to visit Hilo is from May to October, especially if you're planning on diving east Hawaii Island. During June, the visibility is at its peak, and you can enjoy stunning underwater views.
This period of the year also offers mild temperatures and fewer crowds. However, keep in mind that Hilo is a tropical destination with occasional rain showers throughout the year.
Accommodation Options
When visiting Hawaii's Big Island in Hilo, several accommodation options exist. Here are some of the best places to stay:
Whether you're looking for budget-friendly accommodations or luxury resorts, these options provide comfort and convenience during your stay in Hilo, Hawaii.
Budget Considerations
When planning a trip to Hilo, it's important to consider your budget. Here are some tips for saving money while still enjoying all that the area has to offer:
Stay in budget-friendly accommodations: Instead of staying in the heart of Hilo, consider lodges or inns near the volcano or small hotels in town. These options can be more affordable and still provide easy access to all the attractions.
Look for free and cheap activities and attractions: There are plenty of things to do in Hilo that won't break the bank. Visit free attractions like Wailuku River State Park or Liliuokalani Gardens, hike at Rainbow Falls, or check out the Hilo Farmers Market for affordable local food and souvenirs.
Plan ahead: Save money by booking tours and activities ahead of time rather than on the day of. Many tour companies offer discounts for early bookings, so take advantage of these deals.
Pack wisely: Bring snacks and water with you on outings to avoid having to purchase expensive food and drinks while out and about.
You can enjoy all Hilo offers without breaking the bank by considering these budget considerations.
Hawaii Trip Budget Calculator
What Are Some Christmas Traditions in Hilo, Hawaii?
Christmas in Hilo is a great time to embrace the local culture while incorporating traditional holiday festivities. Celebrating Hawaiian Christmas traditions, the community comes together to enjoy events like the annual Christmas parade, where dazzling floats adorned with tropical flowers and hula dancers bring the festive spirit alive.
Another beloved tradition is the lighting of the tree at the historic Waiākea Villas, creating a mesmerizing display that captures the essence of the holiday season in paradise.
Things to Do in Hilo Wrap Up
Hilo is a breathtaking destination that offers endless opportunities for adventure and relaxation. Whether you're interested in exploring volcanoes, relaxing on white sand beaches, or even a blank sand beach, there's something here for everyone.
From the Hawaii Volcanoes National Park to the 'Imiloa Astronomy Center and everything in between, these 15 best things to do in Hilo will undoubtedly make your vacation unforgettable.
Frequently Ask Questions About Hilo
1. Is it Better to Stay in Hilo or Kona?
While staying on the island of Hawaii, Kona is recommended as the ideal location for your stay over Hilo. Kona typically boasts superior weather, exceptional beaches and snorkeling, contemporary resorts, a larger selection of vacation rentals, and a more vibrant nightlife compared to Hilo Town.
While a visit to Hilo is worthwhile, an extended stay beyond a single night might not be as appealing.
2. Is Hilo or Kona Cheaper?
Hotel stays and food in Kona typically cost more than they do in Hilo. Kona, with its tourism-centric economy, often comes with higher prices. On the other hand, Hilo, having a higher local population compared to Kona, generally offers slightly lower prices, making it a more budget-friendly choice.
3. Are Hilo and Kona on the Same Island?
Yes, Hilo and Kona are both located on the same island, which is the island of Hawaii, also referred to as the Big Island.
4.

Is it Better to Fly into Kona or Hilo?

Kona is often the preferred destination for tourists, primarily because it embodies the classic image of Hawaii with its warm climate and stunning beaches. If your vision of a perfect Big Island vacation involves lounging on a beautiful beach at a luxurious resort on the waterfront, then Kona would be the ideal choice for you.
Discover the ultimate guide to celebrating Christmas on the Big Island of Hawaii. From festivals to parades, experience a festive holiday season in Kailua-Kona and Hilo.
2023 Merrie Monarch Festival Returns to Hilo on the Big Island, a week-long celebration of Hawaiian culture, featuring hula competitions, arts and crafts, and honoring King David Kalākaua's legacy.