Guide to Hideaways Beach Kauai: Pali Ke Kua Beach on the North Shore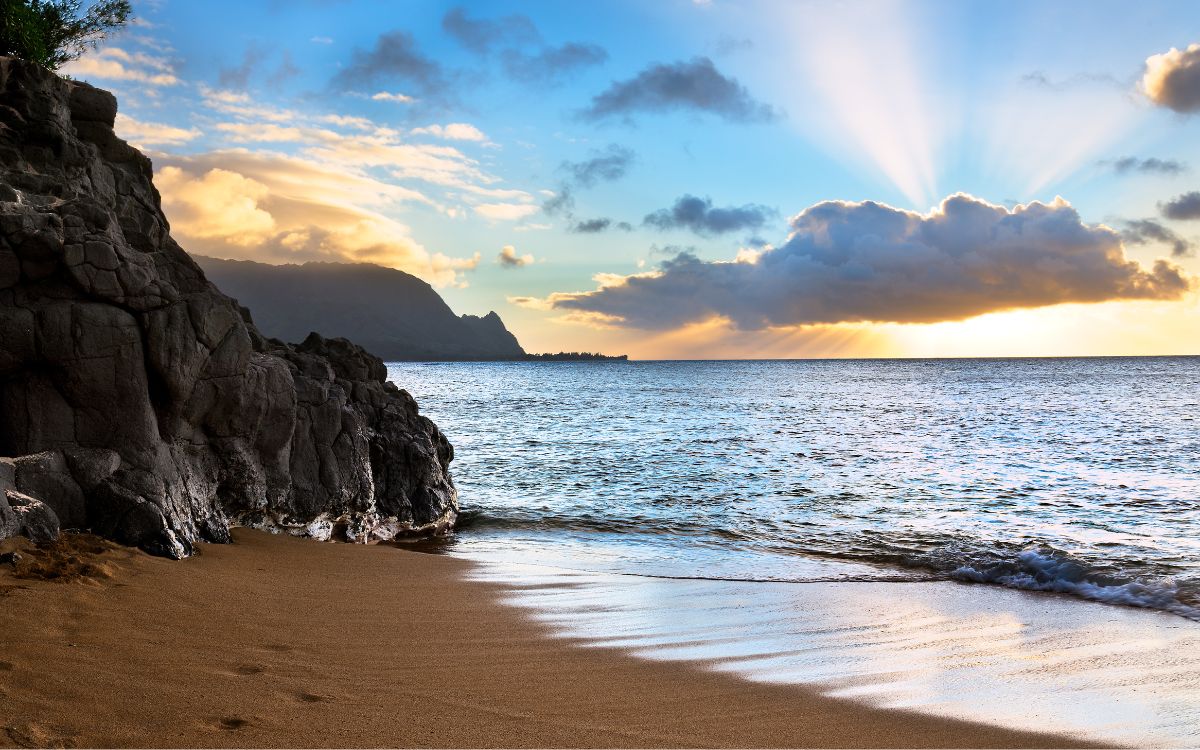 Let's Explore Hideaways Beach Kauai
Craving an escape to a secluded paradise that only Hawaii can offer?
This article will be your comprehensive guide, covering everything from navigating the rugged trail leading down to the beach, best times for enjoying snorkeling activities, and nearby attractions you shouldn't miss.
Let's plunge into this tropical gem!
Affiliate Disclaimer: This post may contain affiliate links, meaning I may earn a small commission if you use the provided link.
Information Disclaimer: This website gives general info and isn't legal or official advice. It helps travelers with tips but can't replace personal abilities, fitness, experience, or local knowledge, which you are fully liable for. All activities have risks; assess current conditions and follow local laws and signage.
Key Takeaways of Hideaways Beach
Hideaways Beach, also known as Pali Ke Kua Beach, is

 

located on the North Shore of Kauai near Princeville.
The

half-mile

 trail leading to the beach

 

can be tough and requires holding onto ropes for balance. It is not recommended for those who are not used to hiking or have small children.
Snorkeling at Hideaway Beach is best during the summer months when the water is calmer and clearer.
There is

 

limited parking available near Hideaways Beach, so it's best to arrive early or find alternative parking nearby.
Restroom facilities are not available at the beach itself, so plan accordingly.
Overview of Pali Ke Kua (Hideaways) Beach
Pali Ke Kua Beach, also known as Hideaways Beach, is located on the North Shore of Kauai near Princeville.
Location and Access
Hideaways Beach is found on Kauai's North Shore. It sits under the cliffs of Princeville. You can reach it through a half-mile trail. This trail may be tough for some people.
It is not in good shape and has ropes tied to trees to help you along the way.
Only about 10 cars can park near here, so spots may run out quickly.
Difficulty Level (hike at your own risk)
Getting to Hideaways Beach can be a bit tough. The trail is quite steep and slippery. It takes about 15 minutes to hike down. Some parts of the path have railings, but not all. You need good shoes, not flip flops, for this hike.
Taking it slow and holding onto the rope will make your trip safer.
Hiking Trail (hike at your own risk)
Let's talk about the hike to Hideaways Beach, Kauai.
The

 

trail starts near Pali Ke Kua condos

 

in Princeville.
You will have to

 

walk half a mile down a rugged path.
This

 

path is close to the cliffside, offering a great view of the North Shore.
Parts of this track need you to hold onto ropes for balance.
Weather plays a big part in how hard this hike can be.
After it rains, the trail gets muddy and slippery.
This path is more of a climb than an easy walk.
If you are not used to hiking or have small children, this may not be for you.
Always check the weather and ocean conditions before starting your trek.
Wear good shoes, not slippahs (flip-flops), as the trail can get quite steep.
Snorkeling at Hideaways Beach
Snorkeling at Hideaways Beach is best during the summer months when the water is calmer and clearer.
Enter the water from the sandy beach area, being careful of any rocks or coral near the shoreline.
The marine life and vibrant reef make for an incredible snorkeling experience.
Best Time to Snorkel
The best time to snorkel at Hideaways Beach is when the waves are calm.
It's important to check the surf conditions before you go, as rough waters can make snorkeling difficult and unsafe.
When the surf is low, you'll have a better chance of spotting colorful fish and other marine life in the clear waters. So watch the weather and ocean conditions for a fun and enjoyable snorkeling experience at Hideaways Beach!
Water Entrance Tips
To make entering the water at Hideaways Beach easier, here are some helpful tips: 
Look for the

 

section of the beach with metal railings. This is where you can enter the water safely.
Be cautious, as the

 

entrance can be slippery. Take your time and watch your step.
Use

water shoes

 

to protect your feet from any sharp rocks or coral.
Check the ocean conditions before entering. If the surf is rough, it may not be safe to snorkel.
Remember to bring your snorkeling gear and swim responsibly.
Marine Life and Reef
Hideaways Beach in Kauai is a snorkeler's paradise with abundant marine life and vibrant coral reef.
You can expect to see colorful fish darting through the clear water and green sea turtles gracefully swimming by when snorkeling.
Please don't chase marine life and keep a safe distance.
The beach is known for its offshore reef, which protects the swimming area and serves as a home to a wide variety of coral formations. This creates an immersive and captivating snorkeling experience, where you can get up close and personal with the underwater wonders of Kauai.
With calm waters and excellent visibility, Hideaways Beach offers an unforgettable opportunity to explore the diverse marine life that calls this reef home.
Tips for Visiting Hideaways Beach
Find out the best time to snorkel, where to park, and nearby attractions to make the most of your visit. Discover everything you need to know for an unforgettable trip to Hideaways Beach!
Parking and Facilities
A small public parking lot is available near Hideaway Beach, but it can fill up quickly. It fits around 10 cars, so it's best to arrive early or be prepared to find alternative parking nearby.
There are no restroom facilities at the beach, so make sure you use them before heading down.
Remember to bring your own food and drinks since no concessions are on-site.
Nearby Attractions and Restaurants
You'll enjoy plenty of nearby attractions and restaurants during your visit to Hideaway Beach in Kauai. Here are some options:
Puu Poa Beach: Located right next to Hideaway Beach, this beautiful beach offers stunning views and is perfect for sunbathing and swimming.
Black Pot Beach: Just a short drive away from Hideaway Beach, this popular beach is known for its calm waters and is an ideal spot for picnic and family outings.
Hanalei Pavilion Beach Park: Another nearby beach that's worth a visit, Hanalei Pavilion Beach Park offers excellent swimming conditions and a picturesque setting.
Hanalei Bay: One of the most famous

 

beaches on Kauai's north shore, Hanalei Bay is a great place for water activities such as kayaking, paddleboarding, and surfing.
Princeville Center: If you're looking for shopping and dining options near Hideaway Beach, head to Princeville Center. You'll find a variety of stores, restaurants, cafes, and even a grocery store.
Insider Tips
Located 50 feet before Ka Haku Road ends, with a corridor to the right near the Pu'u Poa tennis courts.
Descend 120 feet via a mix of stairs and a trail, taking about 5–10 minutes.
Two distinct beaches separated by a rocky point.
Offers excellent snorkeling during calm conditions, showcasing a diverse marine life with occasional turtle sightings.
Coarse sand and shade from large false kamani trees.
Less frequented due to limited parking, ensuring a peaceful experience.
The steep descent might be challenging for some, especially if wet. Assistance ropes might be present during such times.
Always check for sea conditions. Beware of potential rip currents and high surf that can engulf the entire beach.
A second access point to Pali Ke Kua beach is either by swimming from Hideaways or using a private path from Pali Ke Kua condominiums, reserved for their guests.
Discover more of Kauai's beches with our guide of Kalihiwai Beach!
Wrap-Up of Hideaways Beach
Hideaways Beach, also known as Pali Ke Kua Beach, is a hidden gem on the North Shore of Kauai. Its secluded location and beautiful marine life make it a perfect spot for snorkeling and swimming.
Just be prepared for the challenging trail to access the beach and note that facilities are limited.
Overall, it's a must-visit destination for nature lovers looking for an off-the-beaten-path beach experience in Hawaii.
FAQs
1. Can you swim at Hideaway Beach Kauai?
Yes, you can swim at Hideaways Beach in Kauai. The offshore reef usually breaks the waves, creating a protected zone inside the reef that's suitable for swimming. However, be aware that strong surf can result in turbulent waters reaching the beach, and if the tide drops quickly, currents might flow through the gaps in the reef.
2. How do you get to Hideaway Beach Kauai?
To get to Hideaway Beach in Kauai, first locate the Princeville St. Regis Hotel. Nearby, there's a modest public parking area for 9 cars close to the gatehouse. Adjacent to this parking lot on the ocean side, there's a small opening leading to a staircase. This staircase is the challenging path you'll follow to access Hideaways Beach.
3. How do you park for Hideaways Beach?
To park for Hideaway Beach, look for a compact parking area on your right just before arriving at the gatehouse. This lot has limited space, accommodating only 9 cars, and the spots are relatively tight.
4. Is Hideaway Beach good for snorkeling?
Yes, Hideaway Beach is among the top snorkeling spots in Kauai.
Where to find cheap parking in Waikiki Beach, Honolulu. Find cheap parking, hotel parking fees, and a parking map for a stress-free Waikiki adventure!
Explore travel to Maui post-disaster with expert Mindy Poder. Dive into responsible tourism tips!
Planning a Hawaiian vacation? Find out if Hawaii in November is a great time to visit. Discover the best time for your trip to the Aloha State!