Christmas in Hawaii: Guide to Celebrating Hawaii Christmas Traditions (2023)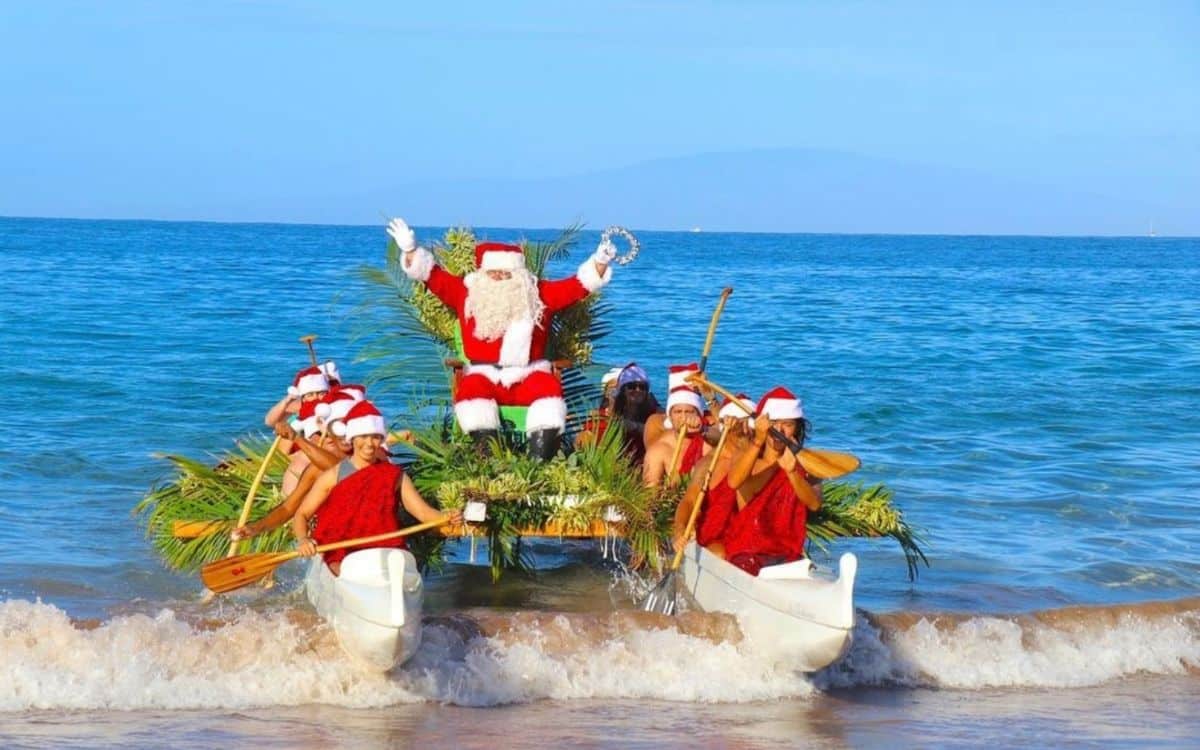 Photo by the Grand Wailea
Planning a Christmas vacation and visiting Hawaii in December? Why not indulge in the festive spirit of Hawaii?
As the cool breeze of early December dances with the warm oceans, Hawaii at Christmas transforms into a holiday paradise.
Beyond the traditional Christmas tree, you'll find Hawaiian Christmas trees shimmering under the stars, and instead of snow, you'll be greeted with a gentle cascade of Christmas lights in Hawaii. While many envision a white Christmas, Hawaii offers something truly unique.
Ready to trade a White Christmas for sandcastles and palm trees? Let's dive into a Hawaiian Christmas adventure!
Is Christmas in Hawaii a Good Idea?
Yes, Christmas in Hawaii can be a good idea for those seeking a tropical holiday experience, however you should consider higher costs, increased tourist crowds, and the potential for rain in December.
Affiliate Disclaimer: This post may contain affiliate links, meaning I may earn a small commission if you use the provided link.
Information Disclaimer: This website gives general info and isn't legal or official advice. It helps travelers with tips but can't replace personal abilities, fitness, experience, or local knowledge, which you are fully liable for. All activities have risks; assess current conditions and follow local laws and signage.
Did you know that celebrating Christmas on the islands isn't just about beachside fun and sun? Hawaii Christmas traditions are an incredible blend of Polynesian traditions, a dash of Japanese influences, and the universal Christmas cheer.
Imagine a Hawaiian Santa Claus greeting "Merry Christmas" as he rides a canoe instead of a sleigh. Or the famous Hawaiian Christmas songs, sung in Hawaiian, set the season's rhythm.
But it's not just about the music and the merry Hawaiian Santa. The Christmas events span across the Hawaiian islands, with Waikiki Christmas activities leading the charge.
While Oahu is believed to be the 'cheapest' Hawaiian island to visit, every island carries its own special Christmas traditions in Hawaii.
From the amazing Hawaiian Christmas feast that brings together traditional Christmas food with Hawaiian delicacies to the part of Hawaiian and Japanese traditions that blend to celebrate Christmas in a unique style, there's so much to discover.
So, if you're contemplating how to spend Christmas, look no further. With the Hawaii Tourism Authority and many local guides endorsing the festive season in Hawaii as one of the best times to visit, you can be assured of a memorable holiday.
Say "Merry Christmas in Hawaiian", indulge in Hawaiian Christmas day festivities, and become a part of the beautiful Christmas celebration the islands are known for.
Whether you're traveling to Hawaii from New England or from any other part of the world, this is your ultimate guide.
Dive deep into the Hawaii Christmas content we've curated and plan your perfect Hawaii Christmas vacation. It's more than just a holiday tradition; it's a journey into the heart of how Hawaii celebrates Christmas. Let's embark on this festive adventure together!
Key Takeaways of Christmas in Hawaii
Hawaii offers a unique and tropical holiday experience during Christmas, blending warm temperatures, and Polynesian and English influences.
Hawaiian Christmas traditions include lively parades with Santa arriving on the beach in a canoe, festive luaus with traditional dishes like kalua pork and lomi lomi salmon, and even surfing on Christmas Day.
Learn how to say "Mele Kalikimaka" (Merry Christmas) in Hawaiian and discover other common words and phrases associated with the holiday season in Hawaii.
Popular Christmas events in Hawaii include Honolulu City Lights, Waikiki Holiday Parade, and celebrations at the Polynesian Cultural Center.
Visiting a specific island of Christmas? Check out our Christmas in Hawaii isalnd guides:
A Brief History of Christmas in Hawaii
The history of Christmas in Hawaii dates back to the arrival of Christian missionaries in the early 19th century.
Cultural Influences in Hawaiian Christmas Traditions
Hawaii's Christmas customs come from all around the world. Polynesian places like Samoa and Fiji, and Asian countries like China and Korea had a hand in shaping them.
Plantation Days also brought in new ways to celebrate from Portugal, Japan, the Philippines, and more! Dutch captain George Dixon helped start it all by hosting a feast on Kauai in 1786.
Yet Hawaiian Christmas got really big after missionaries showed up in the 1800s. Back then they also had Makahiki festival for gift giving that lasted months. Now we blend all these rich past times to make our own kind of special Hawaiian Christmas traditions!
Unique Hawaiian Christmas Traditions
The Hawaiian islands celebrate Christmas with unique traditions. Some of Hawaii's Christmas traditions include lively parades, the arrival of Hawaiian Santa, festive luaus, and even surfing on Christmas Day.
Christmas Parades
You'll love the Christmas parades in Hawaii! They happen in Honolulu and Waikiki. They include boat shows and pay respect to those lost at Pearl Harbor (December 7, 1941).
The best part is when Santa Claus lands on the beach, not with a sleigh but a canoe! These festive events also feature hula dancers moving to holiday tunes.
You might even see Shaka Santa, the Hawaiian Santa Claus, giving you a friendly "hang loose" sign as he passes by!
Hawaiian Santa's Arrival
Hawaiian Santa Claus, also known as Shaka Santa, is a unique and exciting part of Christmas in Hawaii. Instead of arriving on a sleigh, he makes his grand entrance on a canoe at the beach.
With a big smile and throwing a shaka, Hawaiian Santa brings the festive spirit to the islands. His arrival is always highly anticipated by locals and visitors alike, creating an atmosphere of joy and excitement.
It's a special tradition that adds an extra touch of magic to Christmas in Hawaii.
Christmas Luau
A Christmas Luau is a fun and festive celebration that brings together Hawaiian traditions with the holiday spirit. It's like having a traditional Hawaiian luau, but with a Christmas twist!
Picture this: colorful leis, tropical decorations, and delicious food.
At a Christmas Luau, you can expect to find kalua pork cooked in underground ovens called imu, lomi lomi salmon, poi, poke, and steamed white rice. The atmosphere is filled with lively hula performances and Hawaiian Christmas carols playing in the background.
It's a unique way to celebrate the holidays in Hawaii and create lasting memories with your loved ones. So if you're visiting Hawaii during Christmastime, don't miss out on experiencing the joy of a Christmas Luau!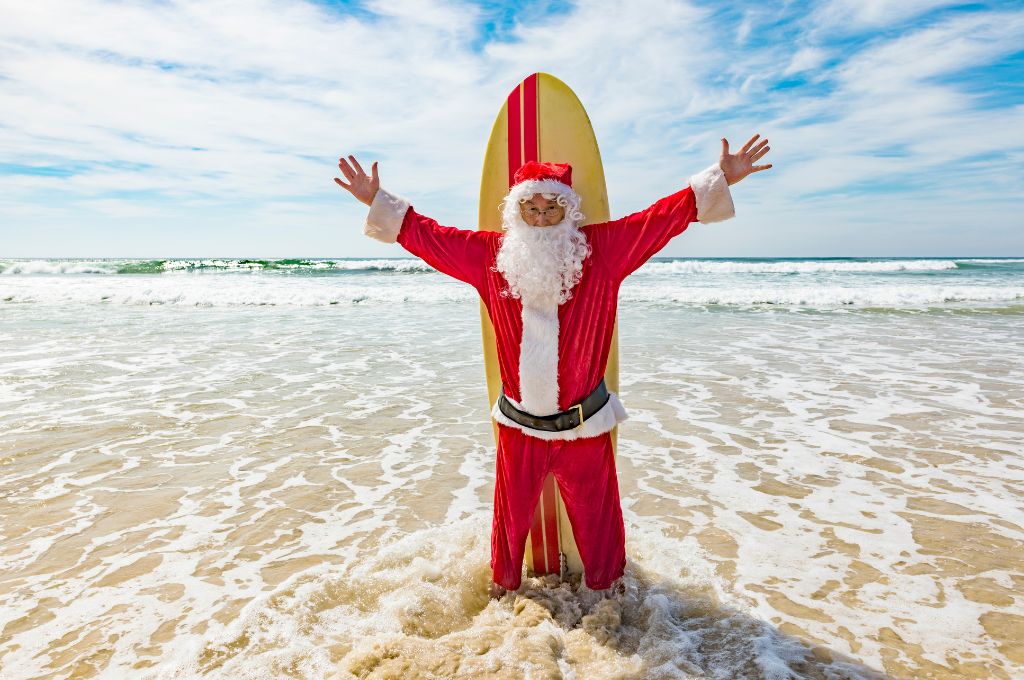 Christmas Day Surfing
Christmas Day surfing is a unique Hawaiian tradition that adds an adventurous twist to the holiday celebration. It has become a popular activity for both locals and tourists in Hawaii on Christmas Day.
Picture yourself riding the waves in warm tropical waters while feeling the excitement of the Christmas spirit around you. Whether you're an experienced surfer or want to try something new, Christmas Day surfing in Hawaii offers a thrilling and memorable way to spend your holiday.
Language of Christmas in Hawaii
Learn how to say Merry Christmas in Hawaiian and discover common Hawaiian words and phrases associated with the holiday season. Immerse yourself in the unique language of Christmas in Hawaii!
How to Say Merry Christmas in Hawaiian
To wish someone a Merry Christmas in Hawaiian, you would say "Mele Kalikimaka." It's a phrase that combines the English word for "Merry" with the Hawaiian word for Christmas.
Mele Kalikimaka is a popular greeting in Hawaii during the holiday season and is often seen on signs, cards, and decorations.
So, if you want to spread some holiday cheer while visiting Hawaii, don't forget to say Mele Kalikimaka!
Speaking of Mele Kalikimaka. No Christmas holiday would be complete without Christmas songs. From the classic 'Mele Kalikimaka' song to unique island favorites, like 'Hawaiian Santa.' Check out our full list of the best Hawaiian Christmas songs.
Common Hawaiian Christmas Words and Phrases
Another fun word is "Ahiahi Kalikimaka," which means Christmas Eve. You might also come across the term "Hau'oli Makahiki Hou," which means Happy New Year.
These words and phrases add a unique touch to the festive atmosphere in Hawaii during Christmas time.
Celebrating Christmas in Hawaii Today
Discover the popular Christmas events, delicious feasts, and unique traditions that make celebrating Christmas in Hawaii a truly unforgettable experience.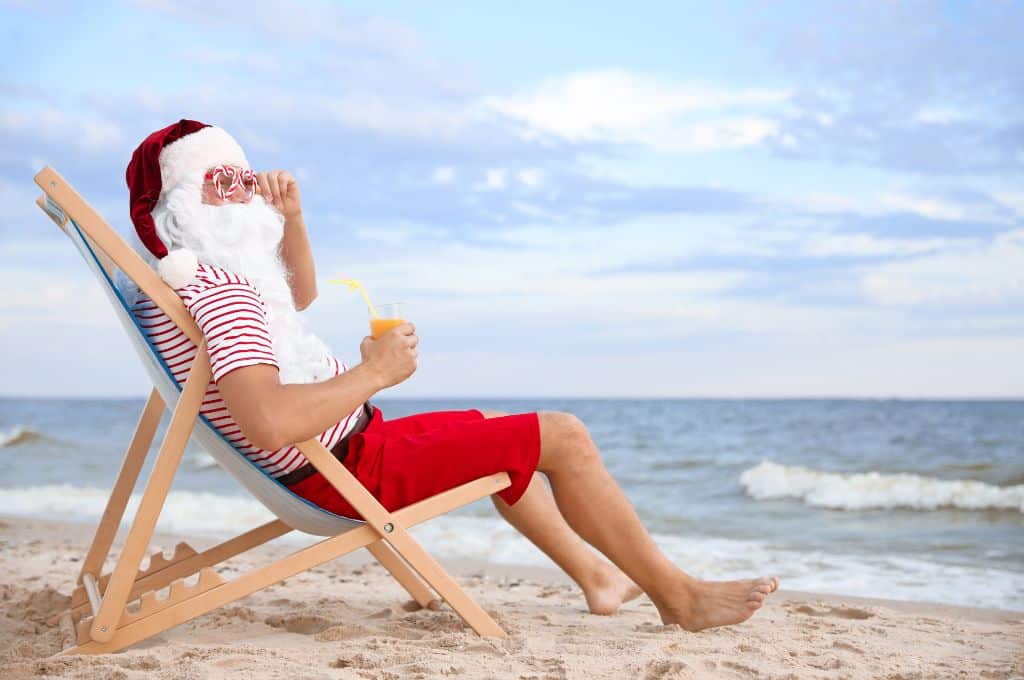 Popular Christmas Events in Hawaii
Hawaii offers a variety of popular Christmas events that visitors can enjoy during their holiday vacation. Some of these events include:
Honolulu City Lights: Experience the magic of Christmas at Honolulu City Lights, where the city is transformed into a festive wonderland with dazzling light displays, a towering Christmas tree, and festive decorations. 
Waikiki Holiday Parade: Watch as colorful floats, marching bands, and performers take to the streets of Waikiki in this lively parade that celebrates the holiday spirit. 
Santa Arrive by Outrigger Canoe: Witness a unique Hawaiian twist on Santa's arrival as he arrives in Hawaii by outrigger canoe instead of his traditional sleigh. 
Waimea's Annual Christmas Twilight Parade: Head to Waimea on the Big Island for this enchanting parade featuring brightly lit floats, decorative vehicles, marching bands, and equestrian units. 
Christmas at the Hukilau Marketplace: Immerse yourself in Hawaiian culture as you celebrate Christmas at this marketplace filled with food vendors, craft booths, live performances, and holiday-themed activities.
Polynesian Cultural Center: Experience an authentic Hawaiian Christmas celebration at the Polynesian Cultural Center with special events showcasing traditional dances, music performances, and a luau feast.
Hawaiian Christmas Feast
The Hawaiian Christmas dinner feast is a tradition practiced across the Hawaiian islands today. It's an important part of the holiday festivities here.
During this feast, we enjoy traditional Hawaiian dishes and flavors. The feast reflects our unique cultural heritage. It's a special way to celebrate Christmas in Hawaii.
Some popular dishes at the feast include kalua pork, cooked in underground ovens called 'imu', poi (a traditional Hawaiian dish made from taro root), lomi lomi salmon, poke (a type of raw fish salad), and steamed white rice. These delicious foods add to the festive atmosphere and bring a taste of Hawaii to our Christmas celebrations.
New Year's Traditions in Hawaii
It doesn't just stop with Hawaii Christmas traditions. New Year's traditions in Hawaii are associated with celebrating Christmas in Hawaii today. Here are some important facts about New Year's traditions in Hawaii:
Fireworks: Fireworks are a major part of New Year's celebrations in Hawaii. Many cities and towns have fireworks displays, and people gather on beaches and in parks to watch them.
Mochi Pounding: Mochi is a traditional Japanese rice cake, and pounding mochi is a popular New Year's tradition in Hawaii. Families and friends gather to pound the rice into a sticky paste, which is then shaped into cakes.
Chinese New Year: Chinese New Year, also known as Lunar New Year, is celebrated by the large Chinese community in Hawaii. Festivities include lion dances, parades, and traditional Chinese food.
Eating Sashimi: Another common tradition on New Year's in Hawaii is eating sashimi, which is raw fish sliced into thin pieces. It is believed to bring good luck and prosperity for the coming year. 
First Day Hike: Many people in Hawaii start the new year by participating in a "First Day Hike." These organized hikes take place on January 1st and offer an opportunity to explore the island's natural beauty.
How to Plan Your Hawaiian Christmas Vacation
Planning a Hawaiian Christmas vacation? Here are some tips to help you make the most of your trip:
Choose the right island: Oahu is considered the best island for Christmas activities, but the Big Island is the cheapest if you're staying in a vacation rental.
Book early: Christmas is a popular time to visit Hawaii, so make sure to book your flights and accommodations in advance to secure the best prices and availability.
Pack appropriately: While Hawaii is known for its warm weather, December can still bring some rain and cooler temperatures. Be sure to pack a light jacket or sweater for cooler evenings.
Plan Christmas activities: Look into local events like tree lightings, Christmas parades, and hula performances happening during your stay. Don't forget to check out holiday-themed activities at popular attractions like the Polynesian Cultural Center.
Enjoy outdoor adventures: Take advantage of Hawaii's beautiful beaches and warm waters by going swimming, snorkeling, or even trying your hand at surfing. The average ocean temperature in December is 77 degrees Fahrenheit!
Indulge in local cuisine: Sample traditional Hawaiian dishes like kalua pork cooked in underground ovens called "imu," lomi lomi salmon, poke, and steamed white rice. Don't miss out on experiencing a Christmas luau feast!
Explore island traditions: Learn about the cultural influences that have shaped Hawaiian Christmas traditions, such as Chinese New Year celebrations and Japanese mochi pounding.
Relax and enjoy the holiday spirit: Immerse yourself in the beauty of Hawaii's festive celebrations, from palm tree-lined beaches adorned with twinkling lights to breathtaking views of Mauna Kea during sunset hikes.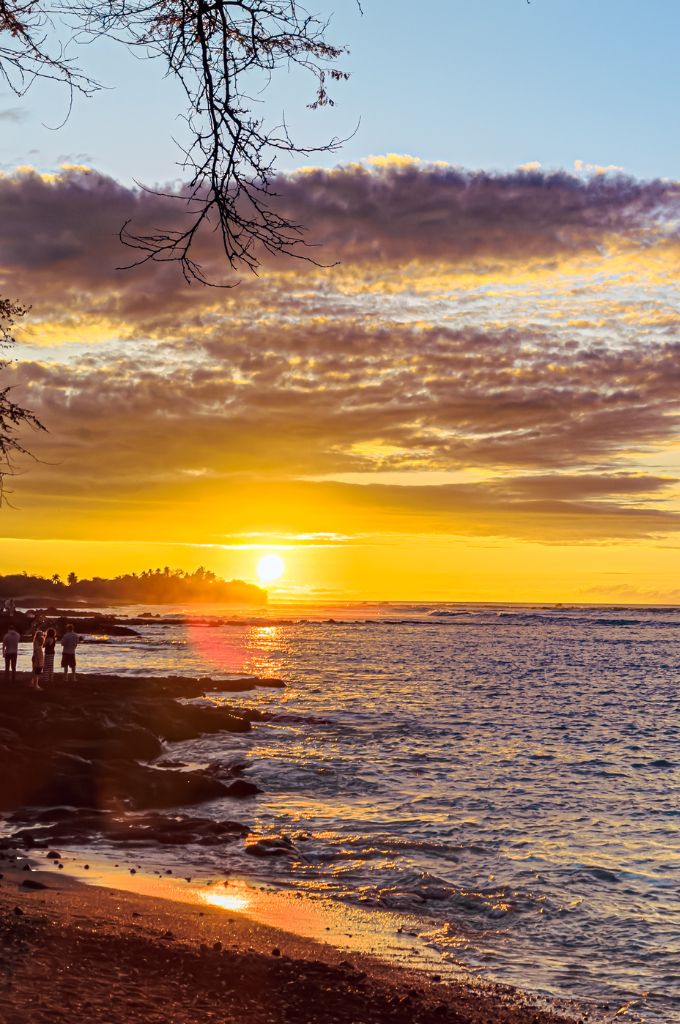 Christmas in Hawaii FAQs
1. What is Christmas like in Hawaii?
Christmas in Hawaii is a unique experience with warm weather, beautiful beaches, and a festive atmosphere blending traditional holiday traditions with Hawaiian customs.
2. Are there any special holiday activities or events in Hawaii during Christmas?
Yes, there are various special holiday activities and events in Hawaii during Christmas, including parades, concerts, hula performances, and fireworks displays.
3. Can I see Christmas lights and decorations in Hawaii?
Yes, you can see Christmas lights and decorations in Hawaii at various locations such as shopping centers, hotels/resorts, parks, neighborhoods, and even on boats during special lighted boat parades.
4. Is it possible to have a beachside celebration for Christmas in Hawaii?
Absolutely! Many people choose to celebrate Christmas by having beachside picnics or barbecues while enjoying the sunny weather and ocean views that make Hawaii a tropical paradise during the holidays.
Christmas in Hawaii Wrap Up
In conclusion, celebrating Christmas in Hawaii is a unique and vibrant experience. With its blend of Polynesian traditions and multicultural influences, the Hawaiian holiday season offers festive parades, Santa's arrival by outrigger canoe, delicious feasts with Kalua Pork and lomi lomi salmon, and even the chance to go surfing on Christmas Day.
The beautiful beaches, warm weather, and breathtaking scenery make Hawaii a tropical paradise for those seeking adventure and tranquility during the holiday season. So pack your bags and immerse yourself in the magic of Christmas in Hawaii!
Discover Hideaways Beach near Princeville Resort, Kauai. Perfectly nestled by the Regis, explore the secluded charm of nearby Pali Ke Kua Beach. Your Kauai beach getaway starts here!
Guide to Kalihiwai Beach Kauai Are you planning a trip to Kauai and looking for that perfect beach destination off the beaten path? Look no further...
Plan your trip to Kauai with our guide to the best beaches in Kauai. Explore popular Kauai beaches, including snorkel-friendly spots and the stunning Hanalei Bay. Discover the best Kauai has to offer!